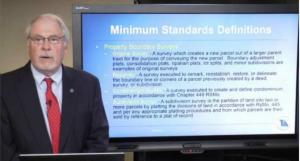 Two new courses added by Mike Flowers; each worth 1 Professional Development Unit (PDU).
This is a two-part series on the Missouri Minimum Standards for Property Boundary Surveys. The Missouri Board for Architects, Professional Engineers, Professional Land Surveyors and Landscape Architects has approved both courses as being applicable to the mandatory Minimum Standards requirements as called for in 20 CSR 2030-8.020 1 (A). Click the image for video excerpts from MSPS courses.
If you're looking for credible, complete online education to get yourself "topped" up with PDUs for license renewal, our portal is a great place to get them. You can take the courses anytime, anyplace that you can access the Internet. If you need the Missouri Minimum Standards, here are two PDUs you can immediately access offered by an authoritative source from right in Missouri.
Click here to see how to log in and use the portal
About the MSPS Learning Portal
This portal is a new benefit offered by MSPS. It provides an option for those needing to get continuing education PDUs when circumstances prevent them from attending an MSPS event. It also gives those who are driven to get educated in certain topics because of their careers, their job requirements, or simply from curiosity, and to achieve this anywhere, anyplace, anytime. Over time, our offerings will expand to be a quality, reliable source for education on Missouri-specific topics. As the selection of courses expands, the portal will provide education for technicians, whether it is basic training, training for job advancement or to refresh known information that may have fallen into disuse.
Remember that in Missouri you can present for renewal of licensure no more than 60% of the required continuing education from online or similar types of non-face-to-face education.
MSPS has teamed with GeoLearn, an online education company, to provide these services to you. You can view the courses that are currently available. There are more than 60 courses available with even more before the year ends. You will need to register as a user with a simple sign-up process. Then cruise the catalog after clicking on "Start Searching Now," checking out previews as you wish at no cost to you. Once you select a course you will be taken to a payment interface. Courses that carry PDU credit have the option of a final exam at the end. It is your choice. You are given this choice as many states now require some sort of confirmation that you have learned, and if you are licensed in such a state the exam would be mandatory for you if you desire credit with that state.
Also of note, and something you may want to share with your team, is that in collaboration between MSPS, Seiler Instrument, MO DOT and GeoLearn, the portal has available a free course entitled Getting Started With the Missouri DOT Real Time Network. In it, Tom Bryant of Seiler presents information on the real time network (RTN) that covers background, benefits, how to use it, equipment you need to use it, how to set it up and how to get access through the MO DOT. He also covers good surveying practices when you use the RTN. He ends the course with a field demonstration.
We're particularly interested in whether you believe the courses in the portal serve your needs. We're also interested in finding about what you'd like to see added. Send an email to msps@missourisurveyor.org.
Click Here To Access Online Learning Portal